Documentary Fundraiser & Birthday Party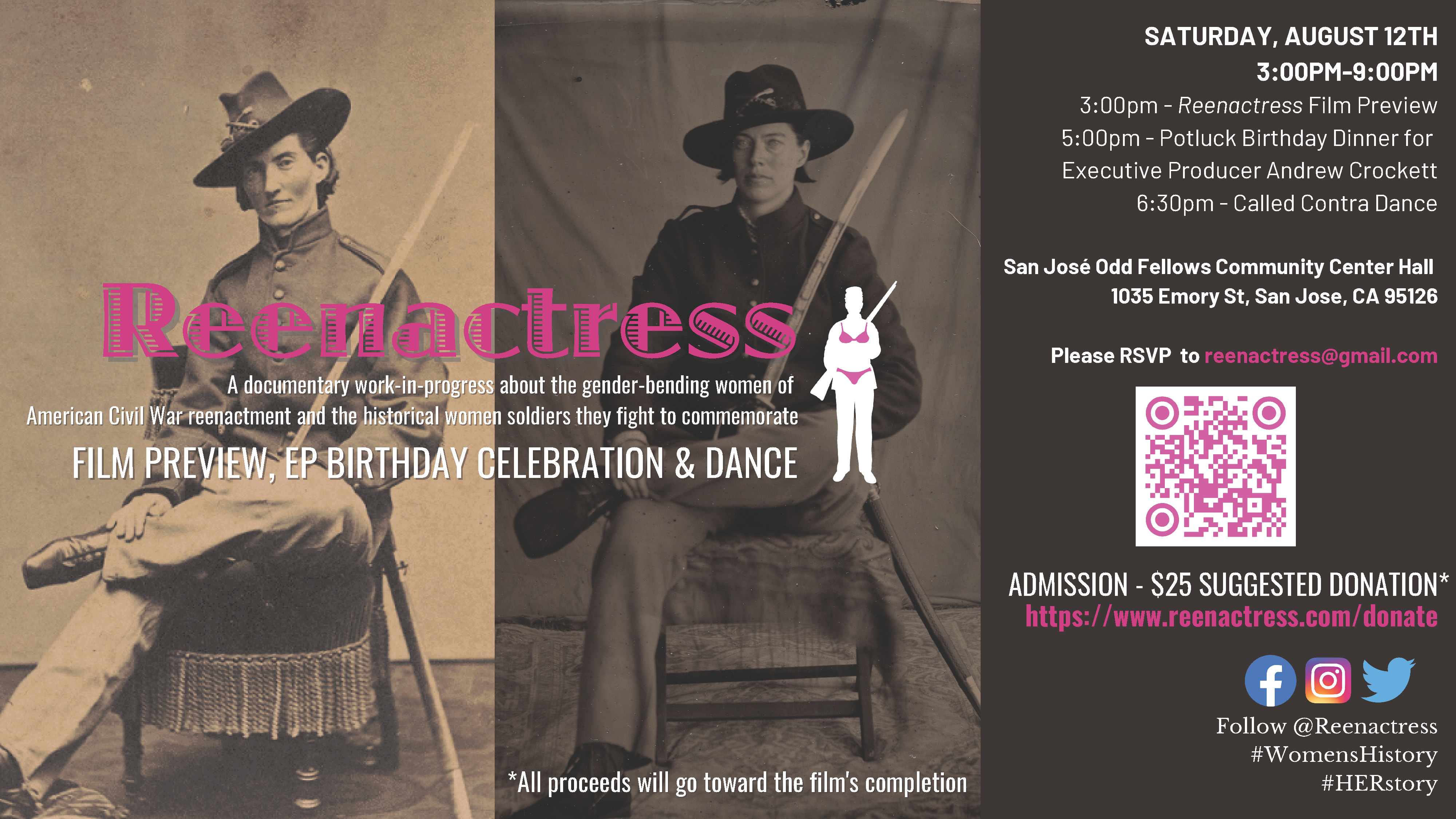 What Andrew Crockett wants for his birthday is for his community of friends, neighbors, and associates to come together and celebrate us all pitching in financially to complete the extraordinary womens civil war history documentary Reenactress!
His birthday fundraiser will take place at the San José Odd Fellows Community Center on Saturday, August 12th beginning at 3:00pm with a sneak preview of portions of the film followed by a Q&A with Director J.R. Hardman, who has been bringing this project to completion after 12 years of effort.
After the presentation, we'll have a birthday potluck - so bring something to share if you can! We have access to a kitchen, so food can be re-heated if needed.
Then, we will have a Contra Dance with live musicians - with the dance called by the magnificent dance instructor Alan Prince Winston!
To attend, we're asking for a minimum $25/attendee donation toward the completion of this feature-length documentary film, and everyone who has already contributed is also invited!
Donations to the film are tax-deductible through our fiscal sponsor, Filmmakers Collaborative, and more information about our other incentives can also be found at www.reenactress.com/donate. And please, by all means donate above the $25/attendee minimum, as we still have $13,180.00 left to raise to finish the film as of July 22, 2023. When we complete the funding for this film, we will be able to complete the film and bring it to theaters! Help the world remember forgotten history by gifting generously!
To RSVP, make your donation, then email your name (and the names of any friends or family you have donated to cover) to reenactress@gmail.com and you will be added to the admission list.
======================================================
LOGISTICS:
SATURDAY, AUGUST 12, 2023
3:00PM - 9:00PM
3:00PM - Reenactress Film Preview
5:00PM - Potluck Birthday Dinner for Executive Producer Andrew Crockett
6:30PM - Called Contra Dance
San José Odd Fellows Community Center
1035 Emory St, San Jose, CA 95126
WHAT TO BRING:
A Potluck Item To Share
WHAT TO WEAR:
This is a casual event, though if you would like to dress up, 19th century fashions are encouraged (such as Victorian style, Edwardian style, and Civil War uniforms), including variations on those themes (such as Steampunk).
Please note that shoes with metal plates or hobnails, as well as high-heeled shoes are not allowed into the main hall where we will be dancing because they will damage the hardwood floor.
RSVP:
Remember to donate a minimum of $25/attendee at www.reenactress.com/donate, then email reenactress@gmail.com the names of all attendees you donated to cover.
SOCIAL MEDIA:
Facebook Event Page (Sign Up Here For More Event Updates!)
Reenactress Facebook Page
Reenactress Instagram Page
Reenactress Twitter Page